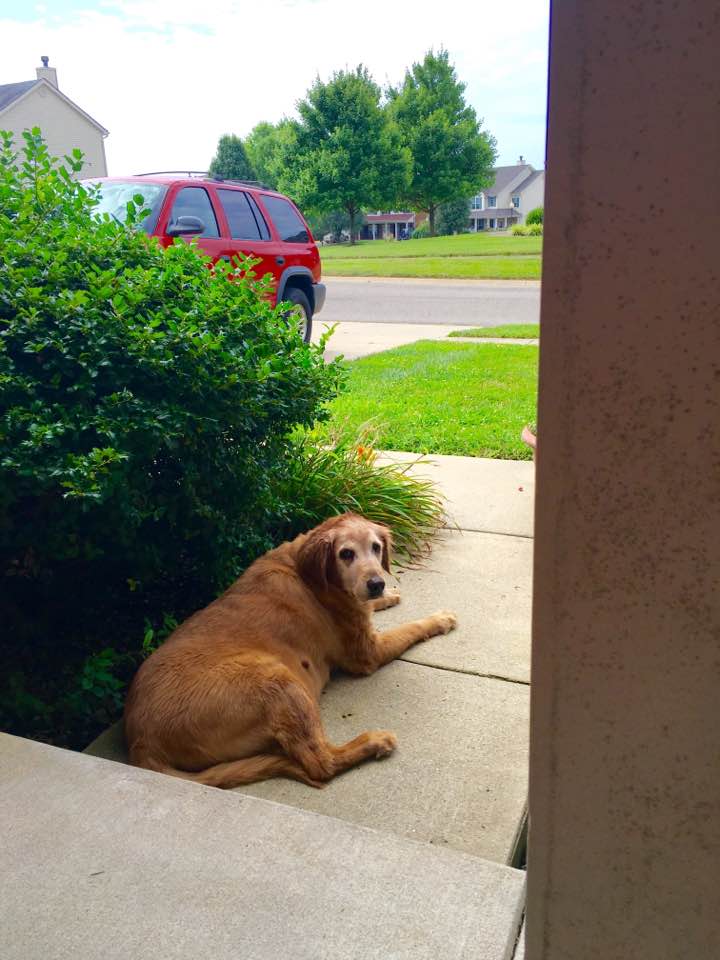 Emotional Supports for ASD during Loss
When individuals with ASD face events of loss, emotional supports are necessary to assist their adaptation.
Katie was a golden retriever, Trent's sweet companion dog and friend for 15 years. She left us on December 14, 2016. She became my autistic son's pet and a member of our family when she was just an eight-week old puppy.
Sadly, for the past several years, Katie developed arthritis that caused her much pain to stand from a sitting position. This impacted her ability to enjoy walks in the park. Within the past six months she suffered from cancerous growths on her body. Then the last week of her life these growths grew in her mouth. Due to her deteriorating condition, we chose euthanasia for our beloved Katie.
Because of Trent's love for her, I was deeply concerned how he would respond to Katie no longer being with us. We believed it was important to help him understand and self express his emotions, thus, to appreciate the love he had for her.
Emotions drive everything we do. It is human nature to have emotions, but to recognize them, and to manage them to move through difficulties is the essence of adaptation. It was my intention to help promote Trent's response to losing Katie and to gain emotional adaptation through this tragic event. In contrast, if we did not bring attention to his emotions, I believe it would only make it worse overtime.
By facing the loss head on, these initiated actions enabled all of us in the family to manage our own grief and emotions. Equally important, these actions helped to enable Trent's ability to self express and grieve in his own way over Katie.
Seven Actions:
1. We involved Trent in the goodbye process. The morning before we took Katie to the veterinarian, I brought Katie to Trent's house so he could see and pet her one last time. I took pictures of him with her so he would later see the photo of saying his goodbyes.
2. We openly showed our own emotions for Katie. My emotions were raw and deep. I knew it was important to honor my own emotions I had for Katie, for my own well-being, and to help Trent.
3. The day after she died, Trent and I wrote a story together about Katie. We wrote about all the good times, the special food she liked, the walks and the playtime Katie loved. Our story was about acknowledging Katie's personality and the love she shared with us.
4. We created a legacy. We found ways that Trent could remember the moments he had with Katie. It was important that Trent remember all the good times with Katie and his love for her. Although he has difficulty expressing his emotions and because of his limited expressive language, we chose images to make a video that would enable his ability to self express.
5. I searched my computer files for photos of Katie. We selected photos of Katie throughout years. We placed them in a special scrap book to be placed on the coffee table in Trent's house. The book will be a beautiful reminder of the times we all shared life with Katie.
6. I made a video about Katie for beautiful memories. We used photos from the past and photos of the last 36 hours that Katie lived.
7. For our last day with her, we celebrated Katie and treated her to an ice cream party with her best pet friend Daisy Mae. Katie also enjoyed her last sausage, egg, and gravy breakfast. We all enjoyed a day of just holding and petting her.
During stressful times or events of loss, we all need emotional supports. These actions helped us with our loss. Yet, Trent relied upon us to offer activities to manage his emotions of losing Katie and honoring Katie's presence in his life.
Individuals with ASD need emotional supports, especially when they have difficulty understanding the loss or in verbally expressing their emotions about their loss. The more we help individuals of all ages with autism recognize emotions and self express their feelings of loss, the greater emotional adaptation and growth can occur. Honoring emotions enhances well-being.
Our video, A Celebration of Katie'.
Jackie M. Marquette, Ph.D.